.
Residential Junk

Removal and Hauling
Do you have junk, unwanted goods or construction debris sitting around, taking up space inside your home? If so, we are here to help you!
Don't go with the guy on craigslist just to save a few bucks! Here at EarthWise Hauling, we will charge you a reasonable fee to remove your items and you can have peace of mind knowing that we are a licensed, bonded and insured company. That means you can trust our teams while they work in your home and around your family and pets. It also means you can rest assured, knowing that we will dispose of your unwanted goods in the most environmentally responsible way.
Here is an example of why you should choose EarthWise:
Let's say you have an old school CRT TV that you need to get rid of because you are upgrading to a flat screen. Our fee for this pickup would be around $80.00. True you could probably find someone to remove it for a just a bit less, but what would happen if that person dropped the TV on your floor or scratched up your doorway? What would happen if they hurt themselves while working inside your home? Suddenly saving $20 doesn't seem so appealing, right?
But let's say everything goes smoothly and they get that old TV out of your hair without a hiccup… The mission was a success, right?
Not necessarily… Do you know where they took your TV? Since that person was not a state registered electronic waste handler, there is no way to track what happened to that TV. Did they illegally break it open and release toxic mercury gas in an uncontrolled environment just to gain access to the copper and other precious metals inside the TV? Many illegally operating so called "scrappers" do this all the time.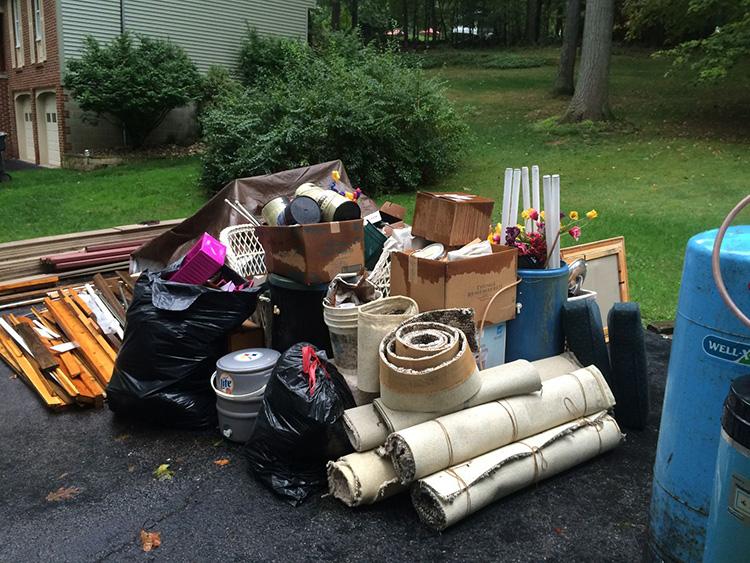 Do you really want to contribute to illegal and environmentally irresponsible actions?
You wouldn't be here on our website if you did! Make the smart choice and call EarthWise! Give us the opportunity to serve you and see for yourself that it is worth it.
Receive an Online Booking Discount of $80!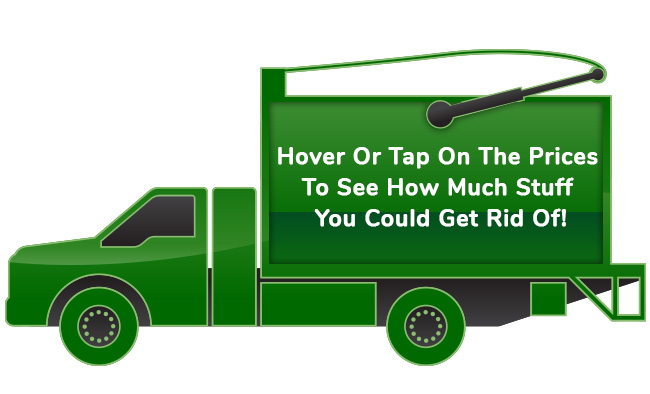 Junk Removal pricing is 100% transparent.
It's based on a simple and fair volume system. You only pay for how much space your junk takes up in one of our trucks. Our interactive pricing widget can help you estimate how much junk you have so you can understand the way we price long before our uniformed team arrives. Keep in mind, our pricing includes all taxes and disposal fees.
Our trucks can hold up to 15 cubic yards of junk, trash or debris. That is an industry standard amount. However, we offer prices that are about 20% lower than national junk removal companies. As a local small business with no franchise fees, we can charge less. Plain and Simple.
Along with full service standard junk removal, EarthWise also offers dense material hauling. Need help removing dirt, concrete, sand, bricks, boulders, drywall, tile or stone? We can do that! Dense material removal is also based on volume. We charge $35 per wheelbarrow or $200 per loose cubic yard.
It's important to remember that the final price of your haul is always determined once we are on-site. That's because you could have more or less junk than you might think. After our trained and experienced hauling technicians give you an estimated load size based on what they see in person, they will load the truck quickly and efficiently. Our pricing includes all taxes and disposal fees. After the truck is done being loaded, the team will sweep up the site. If you are 100% happy, then we let you pay us! 🙂
LOW ON CASH? DO YOU WANT THOSE EXTRA REWARDS POINTS? NO PROBLEM! WE ACCEPT ALL MAJOR CREDIT CARDS WITH NO EXTRA FEES

Don't Just Take Our Word For It!
Wondering if we can handle your job?
Here are a few things we've removed…
250 LB Commercial Freezer (with our eyes closed) – Cost For Removal: $220
375 LB Cast Iron Bathtub (a good warm up) – Cost For Removal: $250
525 LB Tall Upright Piano (is this considered heavy lifting?) – Cost for Removal: $275
800 LB Hot Tub (now that was a good work out) – Cost For Removal: $600
950 LB Fire Safe (OK, now we're just bragging) – Cost For Removal: $250
1700 LB Camper Shell (Is there anything we can't haul?) – Cost For Removal: $1500
Remember, we are removal professionals, not the guy down the street with a pick-up truck! We can handle whatever you can throw at us!
Items that can be re-purposed or recycled:
Appliances
Water heaters
All types of metal
Wood
Concrete
Asphalt
Dirt
Green waste
E-Waste
Furniture
Clothes
Household goods
Toys
Building materials
Computers
How is EarthWise Hauling Eco-Friendly?
We have not dumped at a landfill in over 9 years!
We recycle up to 100% of your junk! We accomplish this by hand sorting your unwanted goods in our warehouse facility. We then take various types of materials to the proper recycling facilities and donation centers. In fact, we even have our own EarthWise Second-Hand store in the City of Orange! This enables us to repurpose tons of "junk" that would've otherwise not have been able to see new life.
What about our trucks?
What good is recycling when the truck that's doing it is pumping out pollutants all day? That's what we thought too! As of March 2015 we switched over to Natural Gas powered trucks. We are the only junk removal service in California with clean burning CNG trucks. This is just another way we strive to reduce our carbon footprint, even as we drive between customers and recycling centers.
Over the last 10 years, EarthWise Hauling has diverted over 10,000,000 lbs of waste from Orange County landfills!